click photos to view
Excellent for Security inspection when needed to look under or around Vehicles, Machines, Equipment, and hard-to-see areas. Available from lightweight hand-held to complete with caster wheels and light.
6 styles
Available in Round Convex or Flat Mirror
Equipped with adjustable swivel
Has a heavy duty extruded rubber rim to help prevent damaging objects when maneuvering
Available with tripod ballbearing caster wheels, allowing full range of motion with effortless maneuvering.
Light weight handle
Low 3-1/2″ ground clearance
Available with flashlight, batteries, and mounting bracket
For indoor or outdoor use
Model
Size
Lbs.
P-120IM
33" – 42"
7
P-120FIM
33" – 42"
7
P-120IMW
33" – 42"
8
P-120FIMW
33" – 42"
8
P-120IMLW
33" – 42"
9
P-120FIMLW
33" – 42"
9
Truck Inspection Mirrors – Round Convex or Flat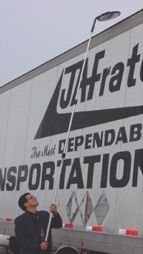 Ideal for inspecting on top of semi trailers or rail cars.
Available 12″ convex or flat mirror.
1-piece, triple-extensions handle made of durable anodized aluminum.
Handle adjusts from 4'3″ to over 13′
Complete unit weighs less than 5 lbs.
Convenient 2-piece grip for easy maneuvering.
Mirror head is easily detachable and comes with mirror protection cover.
Unit collapses down for easy storage.  (fits in the trunk of most vehicles)
Truck Inspection Mirrors
P-120TIM
51" –  156"
8
P-120FTIM
51" –  156"
8
Mini Inspection Mirror
080IM
42"
6